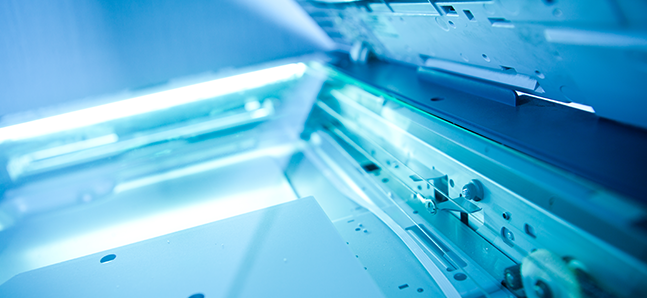 ABBYY products relevant especially for digitisation and data recognition:
ABBYY FlexiCapture

ABBYY FlexiCapture is designed for bulk OCR processing of structured and unstructured documents. It offers processing of scanned documents as well as existing electronic documents. Text recognition in forms is very accurate and supports hand writing. The extension ABBYY FlexiCapture Invoices uses machine learning to accelerate deployment of invoice OCR scanning.
https://www.abbyy.com/flexicapture/

ABBYY FlexiCapture for Invoices

ABBYY FlexiCapture for Invoices is an application for extraction of invoices that significantly increases the efficiency of working with invoices, reduces the error rate and costs associated with their manual processing by eliminating data entry and physical paper handling. It facilitates the extraction of invoices, validation of their data and direct processing of invoices based on purchase orders.
https://www.abbyy.com/flexicapture-for-invoices/

ABBYY FineReader Server

ABBYY FineReader Server is suitable for bulk conversion of documents into electronic form and recognition of text. It is a very powerful tool for creating a text layer for electronic documents ready for indexing and full-text search. The tool is suitable for example for processing contracts, books, newspaper articles, etc.
https://www.abbyy.com/finereader-server/

The company OpenText, a global leader in ECM, offers high-quality products for document digitisation and storage in SharePoint:

We offer mainly the following Kofax applications:
Kofax Express

Kofax Express is a simple scanning software with the VirtualReScan® (VRS) feature for automatic enhancement of resulting images. Kofax Express separates documents in batches based on barcodes. The source can be documents from scanners and file repositories.
https://www.kofax.com/Products/express/overview

Kofax Capture

Kofax Capture is a system for bulk processing of structured documents, primarily forms. The extension module Kofax Transformation is designed for processing unstructured documents such as invoices. The complete solution by Kofax can be linked to various other modules for data mining from tables, invoice line items, connected to a multifunction printer as a source, and more.
https://www.kofax.com/Products/capture/overview
Scanners
Today's document scanners differ in three main parameters.
Required scanner format (A3/A4)
Daily output in sheets scanned
Whether the scanner is sheet-feed only or if it allows scanning bound documents on a flat bed
We will help you choose the most suitable document scanner based on your needs.
Our recommended brands include mainly Fujitsu, Kodak, Panasonic and Canon. Every brand and scanner has its specific properties.
Outsourcing
Do you work with a large amount of paper documents? Do you want to replace them with electronic documents? There is no need to invest in expensive technology and a team that will work on processing, digitizing and validating the documents – Sabris can do it for you.
Reduce costs, get rid of paperwork, save space, reduce errors and make use of the latest technology without the need of an initial investment.
Focus your efforts and resources on developing your business and leave paperwork to us.
For more information, visit the website of our Shared Services Center.